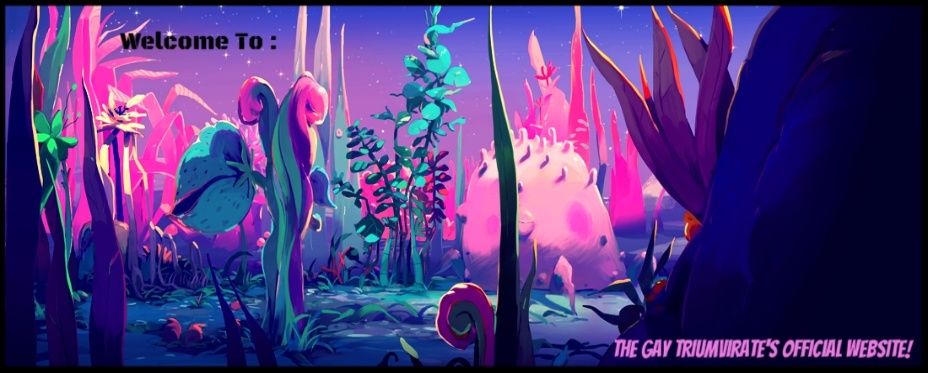 The Gay Triumvirate
The Gay Triumvirate (also known as The Really Gay Triumvirate, or TRGT) is a forum dedicated to amazing RP and PLOTS.

Lore!

Topics
Posts

Last Posts

USEFUL FOR: finding a setting / knowing about that setting / who and what resides there / knowing what government controls that setting / a small debriefing of that setting's history.



4

4

Green World
Sat Feb 13, 2016 4:29 pm
Lame
USEFUL FOR: picking a faction for your character / knowing what that faction is about / personalities of people in that faction / that factions' history.



6

6

The Eldritch Col...
Sat Dec 10, 2016 9:42 am
Lame
USEFUL FOR: choosing what your character is / knowing that species' history / informing your character on the universe around them / knowing the mythology behind that species / etc.



11

11

Disconians
Sat Dec 10, 2016 10:14 am
Lame
USEFUL FOR: reading up on major Asgardian history / viewing Data Logs and reading documents from Asgardian Scientists and Researchers / reading up on minor planetary history / discovering mythology / getting away from all those incessantly hip and cool kids / being a nerd.



0

0

USEFUL FOR: keeping up-to-date with plots / hearing rumors about certain characters / listening in on interviews with certain characters / hearing the orgasmic dulcet tones of Famous Disconian Space Dog: Mr. Groove / etc.



0

0

Topics
Replies
Author
Views
Last Posts

No message.